Veterans Benefits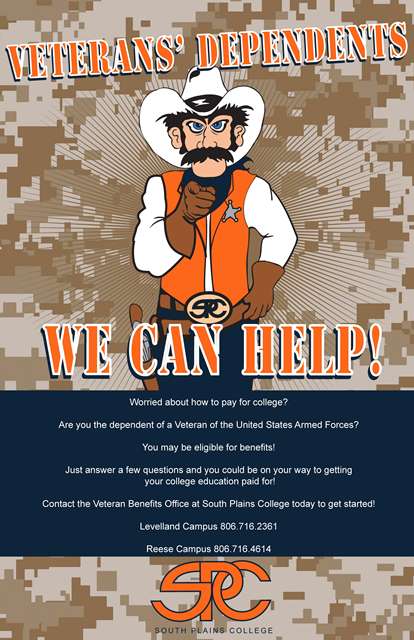 South Plains College honors all veterans and active-duty military and their service to our country. A student who is a veteran, spouse or dependent of a veteran, may be eligible for veterans' educational benefits to help her/him achieve a valuable education.
For information on eligibility requirements, contact the VA Advisor in the Financial Aid Office at either the Levelland Campus or the Reese Center.
Getting Started
GI Bill™ Benefits
Hazlewood Act
General Degree Requirements

VA Advisors
Levelland Center
Kristi Simpson, VA/Financial Aid Advisor
Office of Financial Aid
1401 S. College Ave
Levelland, TX 79416
(806) 716-2361
ksimpson@southplainscollege.edu
Reese Center
Joyce Purkeypile, VA/Financial Aid Advisor
Office of Financial Aid
819 Gilbert Drive
SPC Bldg. 8, Room 804
Lubbock, TX 79416
(806) 716-4614
jpurkeypile@southplainscollege.edu
Office Hours:
Monday through Thursday 8 a.m. until 4 p.m.
Friday: 8:00 a.m. to 4:00 p.m. (3:00 p.m. during the summer)
Find us on Facebook at South Plains College Veteran Benefits.